Still Smokin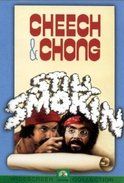 Director: Tommy Chong
Actors: Cheech Marin, Tommy Chong, Hans Man in 't Veld
Genres: Comedy, Music
Country: USA
Release Year: 1983
Duration: 91 min
Synopsis: Cheech & Chong are invited to a celebrity party/festival in Amsterdam. When they get there, however, it turns out that the guy who invited them has taken off with all the money, and the rest of the hosts have a VERY limited budget. They are actually expecting Burt Reynolds and Dolly Parton, so our heroes gets to be Mr. Burt and Mr. Dolly. We follow them around Amsterdam, at their hotel, (still) smokin' joints and doing shows...
YOU ARE WATCHING: Still Smokin
The video keeps buffering? Just pause it for 5-10 minutes then continue playing!
Share Still Smokin movie to your friends. Share to support WatchFree
You May Also Like